Welcome to John Stall's World On Line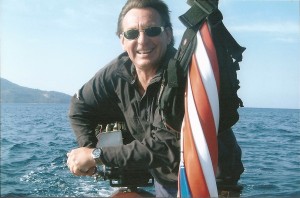 Hi there, and welcome to my official personal website that is separate and distinct from other sites with which I am proudly affiliated. www.680news.com
This is the on-line home that combines John Stall Communications, my communications consulting practice with my current and past radio broadcasting/online life. John Stall Profile
This site is designed to preserve the past Jack Layton & Stall back in the day - 1998 and to share the present as we move forward online.
I've  posted some archived pics, audio clips and full length radio interviews like this one with the cantankerous late former Leaf's owner Harold Ballard  who would never let  Russian Hockey in MLG ,  or field reports from some pretty unusual places. Globe Trotting
So welcome to " Stall's World On Line " and  "John Stall Communications".  Look around the site.  I hope you find some of the audio/visual clips to be educational, Meech Lake Accord interesting, entertaining, The most moving rendition of " Danny Boy" you will ever hear or just plain fun like this question I put to Toronto Mayor Ford during the election campaign.
I also invite you to share and respond to the blog thoughts and tweets I'm  posting as well @johnstall_radio & Stall680news.
As for Consulting Services, the John Stall Communications portal speaks for itself.  I'm happy to help.
Welcome
---
    Byelection results always serve as fodder for future predictions but rarely resonate equally with all political pundits or parties. Incumbents, if they lose or end up with less support than in general elections are always quick to characterize the result as general voter malaise or anger that is registered as a protest vote without fear of upsetting the whole applecart. Challengers who win who realize gains are always quick to characterize the byelection result as a sign of things to come in the next general election. Both characterizations are valid and clearly one side or the other is eventually going to be right. But somethings happening here in the GTA, based on the result in Whitby-Oshawa and what it is ain't exactly clear. The victory in the late Jim Flaherty's riding by former Whitby Mayor Pat Perkins does not come as a surprise because the former finance minister was considered one of the best, most effective and committed Conservative MP's in history, and Perkins is a well respected civic leader. What is surprising,  is that despite the reverence for Flaherty and the Conservative values of Stephen Harper, The Liberals led by Justin Trudeau were able to triple their share of the vote from 14% in the last election to 42% in this byelection. If they were able to achieve that kind of increased support in the riding of the Country's most revered former finance minister, it stands to reason that many GTA seats currently held by less popular or accomplished Tory candidates will be vulnerable in next years general election.
---
It has been a special lead up to remembrance day for me this year because my family ( in the role of civilian sponsor) has welcomed Afgan Brig-General Ahmed Habibi to Canada for on-going command and literacy training. I have spent many hours with him recently at our home and cottage hearing first hand about how much the Canadian Military mission has transformed his Country over the last 12 years. Not just in fighting the Taliban along side the troops he commands but by buil
…
ding roads, bridges, schools, hospitals and confidence in a home grown democracy that is still evolving.
As the dates of the Afghanistan mission are added to the National War Memorial today in Ottawa, I'd like to assure the 158 Military families of those who lost Loved ones in Afghanistan that I'm hearing first hand how much of a difference their service made. Yes, there are cynics who question Canada's role and effectiveness but I must say, hearing the real story from the real deal resonates more deeply than the un-informed musings of low minded critics -especially today. Since May 2013, Major General Dean Milner has served as the Commander of the Canadian Contribution to the Training Mission in Afghanistan (CCTMA). (isaf, nato) He was recently quoted in EsprideCorp magazine " Every deputy in a section and the key personnel in the police force are going to be taught how to train their soldiers and their policemen. It's a huge focus for us. We've got every key institution focused on education and they get it. They know an educated force will win in the short and long term, so we've seen that come a long way. We've got a long way to go, but I could give you stats of the tens of thousands and hundreds of thousands that we've put through literacy training and will continue to. We're continuing to professionalize their force. We're taking General Habibi back to Canada for an English course. He's going to do six months of English and the NSP (National Security Program) course with us. Another big focus is on their officer academy that we've just built and the British are driving it. It's the equivalent of the British Royal Military Academy Sandhurst. So just like them, they're going to do a year-long officer program, with literacy built in".
---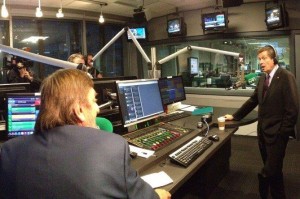 I didn't have to plan too much of a formal introduction to Doug Ford this morning as he arrived in the 680news studio for our final on-air session because as a veteran interviewer I know that sometimes the best and most revealing content never gets on the air because it takes place off the air before and after the "real thing." Doug walked in at 7:30 a.m. on Friday during the commercial break and while saying hello began complaining about my/our post-analysis of the City News debate. I had concluded that the debate was flat, that Doug was more subdued than normal and that John Tory had avoided any devastating moments that could have derailed what the pollsters are predicting will be a significant victory on Monday night. Ford was telling me how wrong we all are to conclude the polls are correct so when the time to begin the interview arrived, I simply turned on the mic and let the audience know that they were now welcome to "eavesdrop " on an exchange that had already been underway between the two of us – here it is as it unfolded on 680news this morning  While asking Doug to explain why he took issue with my assessment of the debate, he acknowledged that he was a little more subdued because he had hammered Tory enough times to make his points. What he then revealed is that his own internal polling puts him in a dead heat with John Tory or even slightly ahead while making the point that the winner will be the one who can get the vote out. He didn't go as far as to suggest I had a bias, but he left no doubt that he thinks the media generally has a bias in favor of John Tory. So, folks, let me be perfectly clear as we head into the weekend before the vote. I have no bias for or against any of the candidates. I am not endorsing any of them, but when I am asked who I think is going to win. I answer John Tory. I come to this conclusion because after the longest campaign in Toronto's history with all of its twists and turns and despite the myriad issues that have been debated ad nauseam, I really believe the core issue has been more Ford or no Ford. If not, then who ? Given that Olivia Chow has not found a groundswell of support by any measure and that Rob Ford's cancer treatment took him out of the race, I sense Tory emerged as the default candidate for the fiscally focused outside of Ford Nation. As for Doug, he is a force of nature who never gives up and truly believes he is going to win on Monday. I just don't think he is as endearing a character as his brother and is not attracting new support outside of the Ford Nation. He told me this morning that I will be proven wrong on Monday night and that the pollsters will once again be embarrassed We shall see.
---
Some days, more than others, my work day ends ( although in the news business it never really does ) with an adrenaline drain intersecting strong emotions.  Today was one of those days.  The strong emotion was in response to watching the departure from Cold Lake Alberta this aft of our 6 F-18's that screamed off the runway into the massive prairie sky headed for Kuwait. The precision fly past in formation was a departing salute and pledge of allegiance to a Country divided over, but slightly in favour of joining the coalition airstrike against ISIS.
As I write this, the Jets are out over the Atlantic likely re-fuelling in the dark by deftly nosing up to the rear of a flying tanker that releases a cupped hose into the air while flying at speeds as high as 700mph.  The Jets move into position one by one behind the tanker and like bees using their stinger to pollinate a flower, thread their own gas hose through the needle of the dangling mother load.
I watched the planes take off while watching the RCMP news brief that the Canadian terror index has been raised as a result of the soldier killed in Quebec by the recently radicalized Martin Rouleau who federal officials now say was known to federal authorities after a relative alerted police to his terrorist leanings. I'm not pro war but I am pro military as a result of time I spent covering Gulf War One in the Middle East back in 1991. I wish our pilots godspeed as they soar across the Atlantic tonight.
The  Military news at the end of this day intersects with the adrenaline drain from quizzing John Tory this morning as he picks up another newspaper endorsement ( Torstar )  with 6 days to go in the election campaign.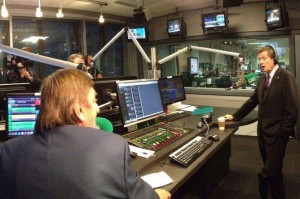 Just another day in the life of …. but it was one of those days.
---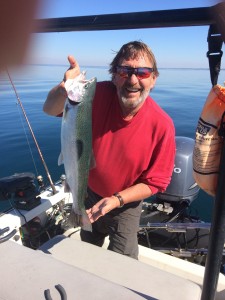 I'm Still reeling from the ecstasy  hangover of the last weekend. It was the best of the Summer.  If I could find a place on earth that featured weather like that all year long I'd move there in a heart beat. It began for me on Friday afternoon after the morning show at 680news.  My ritual on Fridays is to head to head up the 400 highway to our cottage home on Georgian Bay.  First stop is the farmers market in the Holland Marsh to marvel at the bounty of crop,  from bright red Sheppard peppers to juicy bulbs of garlic that have a purple hue to the skins. There is nothing like veggie shopping at this time of year in the Holland Marsh. It's and experience that stimulates all of the senses.  As much a feast for the eyes as the anticipation of the meals ahead.  From there it was a slow drive north on the back roads through the canopy of fall colours.  No matter how many times the fall comes around here in Ontario, the sight is still mesmerizing, at least to me. I spent most of the weekend on board my beloved boat " Tiamo" , a 20 foot long Boston Whaler that I Moor around the mouth of the Nottawasaga river –  which serves as the gateway to Southern Georgian Bay.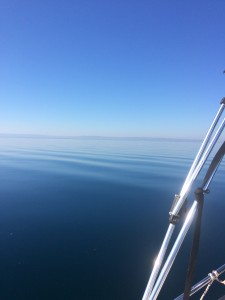 The only sight as stunning to me as the fall colours, is the Big Bay when it is as flat and shiny calm as a duck pond. It doesn't happen all that often because the bay is so huge , but  when it does, it's  breathtakingly beautiful. The blue sky is reflected by the water so precisely that the horizon is indistinguishable.  Now, the only sight more breathtaking than a duck pond Georgian Bay, is a rainbow trout breaking through the glass water as the sound of fishing line whines off the reel!  I got all of it on the weekend which is why I'm enjoying this severe case of October-ites.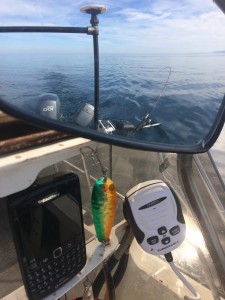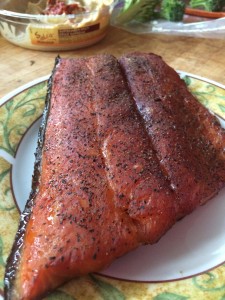 ---
With only 5 weeks left until election day here in Toronto, Mayoral front runner John Tory wants to protect his lead by using  time wisely.  That's why he told me this morning on 680news that he has decided to avoid some of the Community debates that suck up a lot of time either in preparation or execution.  He's also decided to tack away from the debates because his main opponent Doug Ford is doing the same.  The only appearance by Doug Ford so far was the one earlier this week in Etobicoke where he went after John Tory as an elite phoney who knew nothing about how City Hall works.  Tory told me today he wasn't thrown off by that path of attack and looks forward to a couple of more mano-a mano with Doug on TV. Here's the convo in his own words
---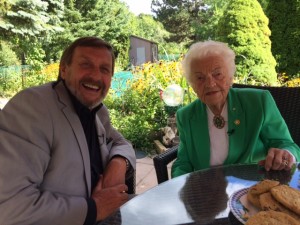 After several attempts and weeks of waiting, I finally got to spend a few hours  with the Mayor of Mississauga yesterday in her back garden.  I've been covering Hazel McCallion for most of her 36 years as mayor so I wanted to do a decent feature interview with her before she hands the reins over to whom ever wins the election next month.  If you are reading this from outside Ontario or Canada let me explain  that Ms. McCallion is probably the longest serving elected politician on the Planet.  She's presided over the growth and development of the territory immediately west of Toronto  ( Mississauga ) for the last 36 years. She converted it from farm fields to the 6th largest city in Canada. At 93 years of age, she's decided not to seek another term – not because she's tired or unable, but because she has other things she wants to do!
Her current schedule would kill most of us. I know I couldn't physically or mentally keep up with it and I'm 30 years her junior.  When I tried weeks ago to book some time to talk with her, I was informed by her  E.A. that she only had ONE ( 2 hour block of time) available between yesterday and the end of October! –  so we chose to meet at her house in mid afternoon where she could drop in to feed " Missy", her giant German Shepherd and so that she could change clothes before the next three events of the day that would take her into the evening hours.  I made sure I arrived a good half hour early rather than risk losing the spot to traffic congestion.
Hazel was a bit late so I waited in the drive way trying to convince " Missy " that I was friend not foe as she barked from inside the house in that German Shepherd kind of way that convinces you to keep a distance from the door when the Mayor is not around or risk having to change your own underwear. The Mayor arrived behind the wheel of her electric ( Volt ) sedan that bears the licence plate "Mayor 1″. She stepped out of the car apologetically with a brief case in one hand and a two dozen roses in the other.  The roses were from Mississauga city staff , about 2000 of them , who had gathered and  lined up a couple of hours earlier at City Hall to shake her hand and to celebrate her contribution.  She had shaken every single one of those hands before she shook mine in the driveway ( actually, given my Italian heritage, we peck kissed on both cheeks ) before strolling into her paper cluttered kitchen where she put the coffee on and reminded me she sits very early in the morning listening to us on the radio there while having her breakfast.  " Missy" chills down ( thank god ) with the help of a cookie the Mayor suggests I extend as a peace offering while we chit-chat about her day so far and the news of the hour including the health challenge faced by Rob Ford.
As much as I embrace the value and appetite for the current media climate of short clips, tweets, and exit scrums, I really wanted to do a full, long-form interview with Hazel McCallion who I think deserves more of our attention than many of us have become used to giving. At 93, and given her electoral record, I think we can learn a lot from her about life, aging, politics and retirement – or at least be entertained by her take on people from Rob Ford to Justin Trudeau to Stephen Harper.  So,  click here to watch and listen hope you enjoy.
---
Olivia Chow is the only person on the planet right now who can ensure Rob Ford is NOT re-elected.  Not by brain storming another lame " take down" message or cracking a policy code that will fill her boots with enough public support to beat him, but by dropping out of the race right now.
Based on the most recent polling numbers from Forum research, Chow's prospects of winning are shrinking, not growing. The Poll points out that her support in Scarborough has collapsed from a high in July of 31% to only 9% this week. She may pick up a portion of David Soknaki's almost insignificant 6% support now that he's decided to withdraw from the race, but it is unlikely she'll be able to do or say anything to harness much more momentum between now and election day.  Her base is what it is right now.  They know her, they like her and they agree with her policy plans and vision of a more caring Toronto. Those who don't support her by now have already decided why and are unlikely to change their mind.
Forum Pollster Lorne Bozinoff told me this morning that he included a hypothetical question in his most recent survey about who Chow's supporters would rally around as second choice if she was not in the race and found that virtually all of them would get behind John Tory as opposed to Rob Ford, giving Tory a landslide victory with 57% of public support to Ford's 30 %
What a struggle it must be for Olivia Chow to confront the option of dropping out, but if her main reason for running was to get rid of Rob Ford, she could do that right here, right now.
.
---
With just 54 days to go until the mayoral election, every day will make a difference to the outcome on Oct. 27.
Who says what to whom, how they say it and where they say it will start to matter more from here on in.
There are 40 public debates set to showcase the candidates. Some of the debates will be televised (they are the ones that will really matter), while others are smaller and less significant to the big picture, which maybe why Mayor Rob Ford has decided to skip two of them this week.
Ford's campaign sent an email to Greenwood Community Association and to Film Ontario over the weekend to let them know that he would not be taking part in their debates because "something had come up in his schedule." His absence will be newsworthy though, in fact, it may trump what ever possible "newsmaking" content of the debates.
Olivia Chow will make news later today though, with what her camp describes as a "significant policy announcement" as she tries to revive a campaign, which measured by at least one set of polling numbers has been on the slide.
John Tory will take part in both debates this week, and is rolling out more of his well-funded ad campaign designed to strengthen the perception that he is the only one who can beat Ford and is the one who can best take "good care" of Toronto for the next four years.
Social media traffic will congest your smartphone if you're following the election on Twitter or Facebook. And if you are, you are no doubt aware of the difference between war room tactics and nonsense designed to diminish the opposition when, and wherever possible, as opposed to useful tweets and news links that you can use to form your own opinion and choice for mayor.
---
I have a James Taylor tune in my mind  that I am singing along with and it goes like this:  " Summer's here, I'm for that.  Got my rubber sandals, got my straw hat –  got my cold beer,  I'm just glad that I'm here"  It feels like only yesterday that I hauled this gem out of the Stall music vault to kick off a 3 week vacation at the Cottage back in early July but here it is Labour day and like you,  wondering where Summer went.
It's been weeks and weeks since I've even posted anything here because, well, summer is summer and " I'm for that " but this weekend changes everything. Labour day has always felt more to me  like the beginning of a New Year than January ever does – without the sense of new beginnings.  It feels more like entering an intense phase of  " Giterdone-ness".  Sooooo, so  long Summer, It's been nice to re-aquaint but now it's time to Giterdone.
---
---