Welcome to John Stall's World On Line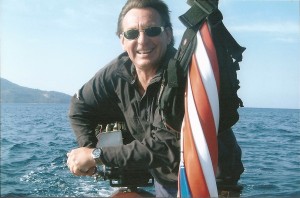 Hi there, and welcome to my official personal website that is separate and distinct from other sites with which I am proudly affiliated. www.680news.com
This is the on-line home that combines John Stall Communications, my communications consulting practice with my current and past radio broadcasting/online life. John Stall Profile
This site is designed to preserve the past Jack Layton & Stall back in the day - 1998 and to share the present as we move forward online.
I've  posted some archived pics, audio clips and full length radio interviews like this one with the cantankerous late former Leaf's owner Harold Ballard  who would never let  Russian Hockey in MLG ,  or field reports from some pretty unusual places. Globe Trotting
So welcome to " Stall's World On Line " and  "John Stall Communications".  Look around the site.  I hope you find some of the audio/visual clips to be educational, Meech Lake Accord interesting, entertaining, The most moving rendition of " Danny Boy" you will ever hear or just plain fun like this question I put to Toronto Mayor Ford during the election campaign.
I also invite you to share and respond to the blog thoughts and tweets I'm  posting as well @johnstall_radio & Stall680news.
As for Consulting Services, the John Stall Communications portal speaks for itself.  I'm happy to help.
Welcome
---
As far as I know, there are only about 3 people apart from the drug dealers who claim to have the incriminating cell phone video of the Mayor that has triggered the political firestorm or some might say crises at City Hall. One of them is Toronto Star Investigative reporter Kevin Donovan who essentially broke the story along with his colleague Robyn Doolittle who has also seen the video. The other person who has seen it is the editor of website Gawker.
I spoke with Kevin this morning on 680 news about how far the Star is willing to go in pursuit of a response from the Mayor or in getting a hold of the video itself. He left the impression that the Star is considering a purchase of the video from the drug dealers who showed it to him.
Here is his latest thinking as of Thursday 2pm 2013
---
Ok, the Rob Ford  video fiasco has reached the tipping point for him, for us in the media and for the people of Toronto. His silence has become deafening and is fueling speculation that what the Toronto Star reported about his alleged drug abuse must be true even though he called the allegations ridiculous.
This speculation is not fair to the Mayor or to the City of Toronto which is suffering from the collateral damage on the world stage. International news agencies including the BBC were calling the 680news room last Friday in search of those who could be interviewed about the allegations and the Mayor's lame response, –  so you can be sure that most people in Europe have an opinion of him and the city that elected him. American networks have been carrying the story on their prime time newscasts and last night the three big late night talk shows had a field day ridiculing the situation. It wouldn't be a stretch to assume that SNL is working on a skit for the upcoming weekend.
There has always been a school of thought among some PR practitioners and brand builders that any publicity is always better than none. I don't buy that theory. Just ask Nigel Wright or Mike Duffy if the kind of attention they are receiving is helping their professional lives.  Toronto took a hit with SARS and Mayor Lastman's clumsy response to world concerns. The Ford fiasco may not hurt tourism, but it is clear he has lost all leadership credibility or the power of persuasion over a divided council, and that sends a scary signal to those abroad who may otherwise consider investing in the City.
As a media specialist and trainer I can assure you and Rob Ford that the negative attention will continue until the mayor shuts it down himself by taking some action NOW. The action he takes will "become the news" instead of the news,commentary and street level speculation continuing to be about why he is not taking a firm, if not legal stance against such serious allegations.
Personally, I have never been bombarded more by friends, neighbors or radio listeners wanting to know "what's going on with the Mayor" ? " Why doesn't he take legal action against the Toronto Star if the allegations are not true"? " If he's not fighting back then there must be something to the story" they say, or " The Star has gone too far in their relentless attack on Ford"
When I'm asked what I think,  I can only respond that I spoke directly to Toronto Star investigative reporter Kevin Donovan whose track record and whose power of observation I respect and trust.  He told me what he saw in that cell phone video and what he has already reported.
It is time for the Mayor to say or do something more about it.
---
NDP leader Andrea Horwath faces one of the most pivotal decisions of her Political life once the Provincial budget is tabled later today.  All indications are that the budget will include many, if not all of what the NDP requested as it flexed its balance of power muscle in pre-budget negotiation. The inference to Kathleen Wynne's new minted minority government is; " you give us,  what we would give the folks of Ontario if we were governing, and we will let you stay in power a little longer."  But that is just the inference, not a signed deal or contract that binds the third party into supporting the budget when it is up for a vote this month.
If  Horwath lets the government live, she risks losing credit ( to the Premier)  for some of the popular/populist positions of the budget including the reduction of auto insurance rates by 15%. Approving the budget also gives the Wynne government time to deserve a majority by establishing itself in the hearts and minds of the Province. If she triggers an election by voting against the budget bill, she risks the wrath of voters who don't want one, and don't want to loose the benefits that will likely be contained in the budget document. Not to mention
I've had many private conversations with retired political party leaders including Jean Chretien, Paul Martin and Mike Harris about the loneliness of the job – especially when trying to make the pivotal decisions.  Horwath says she will consult " The People" before making a decision – but I ask which people?  and in what way ? In my view, the only way to consult people when not wanting to make the tough, lonely decision yourself, is through an election.
---
---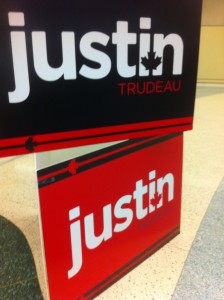 If nothing else, the ad war between Justin Trudeau     and the CPC is an amusing distraction from what's really going on and being talked about at kitchen tables and offices across the Country.
The Liberal party launched a response ad today in which Trudeau is portrayed as,… well,… just himself.  He appears on your screen half straddling a classroom desk,  watching a Tory ad begin to claim that " he's in over his" _____, before hitting the remote kill switch, turning into  the camera to say " Canadians deserve better,   we can mistrust and find flaws in each other,  or pull together and get to work".  He goes on to say a few other things as well, like that he's " proud to be a teacher ", that yes, he is a son and a father, and that although he is a leader, his role is to serve.
Now, it's tempting to earnestly agree with him that Canadians deserve better than a bunch of attack ads harshing their own judgment of either side but that is too much of a given to waste time getting into. What also seem obvious when it comes to the content of the ad exchanges, is that Trudeau's choice to appear just being his authentic self ( for better or for worse ) has more long term merit than the Tory ads that recklessly and erroneously try to put words into his mouth that he didn't use.
A quick unscientific poll of those in our multi-national, multi-demographic and multi-gendered 680newsroom ( and no, it is not a  "Liberal shop" ) finds more thumbs up for Justin's message than the inaccurate Tory attack ad.
---
It didn't Kathleen Wynne very long to process the life changing victory that catapulted her into arguably the second most powerful political position in Canada – not to mention the history books as the nation's first openly gay leader.
It was clear,  as she appeared for her first official public news conference that the "headiness"  of the night before was as much history, as the kind she made with victory over Sandra Pupatello at Maple Leaf Gardens the night before . Wynne had already assumed the responsibilities  of the office after only a few hours of celebration and sleep.
I have known and seen others',  newly elected to leadership roles,  wake up the next morning still giddy, stunned and unsure of what it was supposed to feel like. I clearly remember David Miller telling me the morning after he won the Mayoral election in Toronto that he woke up thinking " Crikey, I'm the Mayor ".  Bob Rae was (  justifiably ) stunned the morning he woke up as the first NDP Premier after David Peterson's Liberal government was turfed for calling an election way before one was necessary or wanted. In both cases, their first news conference was void of substance and stature.  But not Wynne.  She appeared confident, comfortable in her new skin ( literally ) and conveyed the stature her new life demands.
In response to a question about her gay-ness and why she made a point of raising it  during her Convention speech,  she made it clear that she was not, nor was she ever going to be a gay activist, pointing out that her circumstances can " help others be less fearful" but she's not going to spend next months talking about it. " Forging personal relationships with Andrea Horwath and Tim Hudak" is the way she plans to deal with the minority legislature and doesn't that seem like a logical thing to do ? – welcome to a woman's way of doing things.
---
I had no idea that budget chief Del Grande was going to resign when I posted the piece yesterday that I thought he was the best budget chief the city has ever had, but I am not surprised, nor do I blame him because in my view ,what makes him the best budget chief is that he brings a professional C.A designation to a job that is usually filled by ambitious politicians'.
Politicians' live in a "vote" economy while professional money managers' live in the "real " economy. Del Grande is a professional money manager, not a professional politician. It was a good fit at the outset because Rob Ford was elected on the pledge to get the city's finances in order following years of spending money the City didn't have. Who better to comb through the books line by line to find efficiencies and to reconcile spending than a Chartered Accountant?  Add to that qualification, Del Grande's disciplined work ethic and poor beginnings, ( which taught him the value of a dollar saved vs.spent), and the city had a match  made in heaven. But in the messy business of politics, municipal politics in particular, professional politicians living in a vote or re-vote economy and professional money managers living in the "real" economy mix like oil and water.
As many of us have found along the career path, we are happiest, most productive and feel most useful when our particular skill is in demand and appreciated. When it's not, or when our skill set is fought by those who have a different agenda, we feel vilified, frustrated and utterly unhappy.
That's why Mike Del Grande resigned, and I for one – don't blame him, I would too!
---
By the time you read this, I will be on a beach in sunny Florida with my toes in the water and ass in the sand.
It will be the first time we have ever been out of the snowy Canadian landscape for the actual Christmas Eve and Christmas Day, so I'm not sure what it will feel like. I have this doubt that it will feel at all like Christmas (which for me is usually a roller-coaster of emotions that range from joy to melancholy as I reflect on those of my family who are no longer with us). The joyous part is usually accompanied the glorious winter wonderland scene that is usually visible from every window of  our cozy country home.
I've been waffling back and forth over the emotional wisdom of leaving home for the two special days, but I'm sure I will get over it after the first beer on the beach and first drive on the golf course. In fact, after hearing and watching THIS, I'm convinced.
Talk to you in the New Year.
---
Ok, let's calm down now that Toronto Mayor Rob Ford has been told by the divisional court that he can remain in the Mayor's office until his conflict of interest case is appealed on the 7th of January. At least there will be some certainty until then as council considers next years budget.
Speaking of budgets, I got a call from  Mississauga Mayor  Hazel McCallion  in the 680  newsroom asking to let  her clear up  some shoddy reporting  that led those  living  in her city to  believe their  property taxes would be  increasing  by 7.8% next year. "  Nonsense" said  the Mayor who went  on to explain that the total budget for next year would increase 7 %  over last year but the  property tax component would increase by no more than 3% or less.
While I had her on the line I took the opportunity to ask for her take on the Rob Ford case. She balked, saying " I haven't commented to date and I don't want to comment " then added that the inquiry who heard HER conflict of Interest case concluded that the Municipal conflict of interest act is badly in need of revision and that the Association of Municipalities has made the same case while asking the Province to fix it.
I'm not so sure the Act has to change as much as the cavalier attitude of Politicians do – including Mayors' like McCallion and Rob Ford ( both of whom I know well and like very much )  who've been ensnared by it.  The Act is written and designed to ensure that municipal politicians don't speak to or vote in council on matters in which they could personally gain financially. It shouldn't matter if the gain is as little as $1.00 or as much as  $100,000,000.00, or that it is measured ( as it was in Ford's case )  by " funds questionably raised for his football foundation that he didn't think he or his foundation should return. ( It is also questionable weather the integrity commissioner had the authority to impose that order)
There are myriad situations in which a politician could gain from a decision by council.  The Act is not designed to prevent or forbid that consequential outcome. The Act is designed to prevent the political " gainer " from having the kind of say or influence in council that he or she is expected to have on all matters except those that involve potential gain for themselves. What is so bad about that? How hard can it be to figure out and to comply? When in doubt-stay out!
Yes, the Ford case is arguable and his lawyers are doing just that stressing as his supporters website states correctly " Rob Ford gained nothing personally" and that " the city lost nothing".
The Mayor's brother Doug Ford expressed relief over the Judge's decision to let him remain as Mayor until the appeal is heard. He acknowledge that to assume the process has been stressful  " is an understatement " and  now that his brother the Mayor has been " hit by a sledge hammer"," he is likely to change and to handle things differently" " as he matures and grows as a leader"  Isn't that all that is required?
---
The dynamic has changed just one week before the U.S. presidential election.
President Barack Obama is acting and looking presidential by taking charge in the aftermath of Super storm Sandy, committing fast federal funding from the Federal Emergency Management Agency (FEMA).
The wounds from Sandy are still so raw, that it would be political suicide for Republican rival Mitt Romney to criticize the president's management of the crisis. Even the most loyal partisan Republican governors like New Jersey Gov. Chris Christie are praising Obama's response — publicly thanking him with personal tweets and telling CNN's Piers Morgan on Tuesday night that there is no way he's going to play the partisan game in this situation
I recall a conversation I had in Toronto back in the spring with former George W. Bush chief of staff Karl Rove and Democratic strategist James Carville. Both of them (at that time) believed the election would be about the economy, but agreed that a significant, unforeseen development at home or abroad could change the dynamic and tipping point.
---
---