Welcome to John Stall's World On Line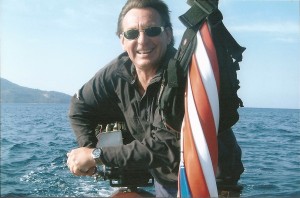 Hi there, and welcome to my official personal website that is separate and distinct from other sites with which I am proudly affiliated. www.680news.com
This is the on-line home that combines John Stall Communications, my communications consulting practice with my current and past radio broadcasting/online life. John Stall Profile
This site is designed to preserve the past Jack Layton & Stall back in the day - 1998 and to share the present as we move forward online.
I've  posted some archived pics, audio clips and full length radio interviews like this one with the cantankerous late former Leaf's owner Harold Ballard  who would never let  Russian Hockey in MLG ,  or field reports from some pretty unusual places. Globe Trotting
So welcome to " Stall's World On Line " and  "John Stall Communications".  Look around the site.  I hope you find some of the audio/visual clips to be educational, Meech Lake Accord interesting, entertaining, The most moving rendition of " Danny Boy" you will ever hear or just plain fun like this question I put to Toronto Mayor Ford during the election campaign.
I also invite you to share and respond to the blog thoughts and tweets I'm  posting as well @johnstall_radio & Stall680news.
As for Consulting Services, the John Stall Communications portal speaks for itself.  I'm happy to help.
Welcome
---
It could be considered by some to be a draw between Kathleen Wynne and Tim Hukdak with the edge going to Hudak." She " for not crumbling completely under fire for the gas plant fiasco, " He "  for  improved personal performance and appeal – even going as far as offering to resign if he doesn't deliver.
Hudak will likely get more of a post debate bump because he appeared  " less unlikeable"  than he has been in the past and conveyed " Less insincerity" than he has in the past while spiking  the corruption volley balls that Andrea Horwath "bumped up" with questions to Liberal leader Wynne about having a choice to say " no " when she was at the cabinet table that made decisions about gas plants. It was a weak throw back to Brian Mulroney's devastating blow in 84 that left John Turner gasping for the kind of political air that could resuscitate his
political life.
There were no real defining moments other than those " you had a choice" lines in an attempt to hold Wynne as accountable as her predecessor, but they didn't stick.
an Ipsos survey taken right after the debate finds that most people ( 36 % ) who watched the debate think Tim Hudak won compared to 27% who think Wynne did and 26% who give it to Andrea Horwath
---
I'm not one to live in the past but it was hard to escape last week while being inducted into the Hall of Fame at Humber College.  It was 42 years ago ( yikes!) that I attended Humber along with only a dozen or so students who pioneered the radio course that at the time had just been sanctioned by the Provincial Government as an accredited course. The course thrives today and has produced some of the most successful broadcast talent in the Country including " Strombo", who has just been named the new and next host of " Hockey Night in Canada".   Speaking of hockey, it was while attending Humber in 1972 that we gathered round a television to watch the final game and epic Henderson goal of the Canada/Russia series, but, I digress…
I must admit, ceremonies like this are good for the ego. It's a bit like being able to attend your own funeral where you can eves drop on all of the great things people are saying about you while highlights of your life flip by on a video screen. Nobody is going to trash you or wax poetic over your low -lights
A lot of radio news water has passed under the bridge since I left Humber and I've loved watching every minute of it.  Even found myself in some of the water from time to time.
What I shared during remarks with some of the graduating class last week is how much more valuable the Community College route can be than attending University in pursuit of a general Bachelor of Arts degree when it  comes to getting the first job.   Former Premier Bill Davis conceived the Community College concept as a skill building,  hands on alternative designed to springboard students directly into the work force.  It sure worked for me. I didn't graduate from the radio course -  I " jobbed out " after the first year and have been happily employed every day since.
I don't exactly remember what the cost of tuition was in 72 but clearly it was the " Best investment I ever made "
---
In case you missed the Mayoral TV debate, here it is.
The buzz this morning is that Rob Ford came out on top, if for no other reason than he showed up for a brawl that never really developed. None of the other candidates played the Jimmy kimmel role with Rob.  Kimmel at least made it obvious when Ford showed up on his late night show that "nothing good could come of his appearance " because it was going to be about nothing BUT crack, and booze and embarrassing videos with a little bit of help offered to a guy in his 40′s who can't remember what he did last night. But none of his opponents went there last night, at least not directly. They took a few limp wristed shots on net that Ford easily brushed into the corner while scoring a goal or two himself.
Here's my TV take on BT this morning
John tory looked like he was still interviewing for the job instead of acting like he had it. Olivia Chow showed some of the municipal street fight she has in her from back in the day before she refined her style to match the more rarified air in the House of Commons.
Karen Stintz and David Soknacki were just fine but showed no sign or capacity last night of becoming front-runners. 
These are very early days so last nights opening performance has little to do with the way things may end up in October but public perceptions are shaped by these events and the chatter that lingers in the hours and days that follow.  Public perceptions can and probably will change by events and performances that are not yet part of the equation. Chow and Tory would be well advised to re-evaluate or re-weight the balance between policy and performance or to put it another way " substance over style" 
---
Imagine looking over your shoulder every minute of your waking life for the last 8 months in a high state of alert and anxiety against a possible threat to your or your family's life. Imagine your workday was fraught with unpredictable circumstances, sights and sounds that none of us ever want to see or experience.  Imagine trying to lower the level of anxiety and alertness at the end of your work day even though the threat hasn't entirely disappeared as you try to get some shut eye.
That has been the state of mind that the last contingent of Canadian men and women of the Armed Forces who returned to day from Afghanistan have be in for the last 8 months and thousands before them have been in for the last 12 years
  As one who has had the experience of returning from a war zone, I can assure you that ( as tough and exceptionally well trained as they are ) they didn't exhale until the wheels of that big C-17 touched down in Ottawa this morning and the tension in their shoulders didn't relax until their feet hit Canadian soil. the reunification with family today is overwhelming despite the extraordinary emotional discipline they possess and is required to do what they do.  And trust me, you can't even imagine what they do.
Most will be able to sleep well at home tonight, tomorrow and in the joyous summer months ahead.  Others will not be so able to do so after what they have been through.  The peace we all enjoy and take for granted here at home will not be as natural for some to recognize and accept. They will need help. The least we can do for them especially as government but also as friends,  is to find out whatever "help" WILL "help" and to assure them at every opportunity that they are safe at home and that their personal service was not in vain even though they may feel otherwise.
Most of us are not in a position to accurately judge if the mission was worth it or met the objective, but all of us should salute and take care of the men and women of Canadian Armed Forces who answered a call that most of us wouldn't personally consider for a second, including members of the government who committed them!
With profound respect and admiration,
Welcome home!
---
News of Pete McGarvey's death at 87 is taking me way down memory lane today to my early Roots in Radio.  I was just a kid in my early 20′s working on the Morning show with Keith Rich at 590 CKEY.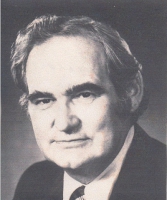 It was the early 70′s and the radio battle for adult ears was between CKEY and CFRB. It was Wally Crouter and his operator side kick Bev at RB against Keith Rich and me at EY. In those days, Prime Morning Time was the 8 O'clock news. Today it's the 7am. McGarvey was brought in to EY from Chatam Ontario to write and read the 8 o'clock against the powerful voice and persona of Jack Dennett at RB.
They were truly the days of "The Voice".  Both of them had a set of pipes that could keep Marconi tubes glowing forever. Dennett always kept the ratings edge at 8am. He was the most-listened-to radio newscaster in the Country – no doubt buoyed by his high profile television role as original host of "Hockey night in Canada " nah nah nah nah nah naaaah. He was a fixture on Saturday night Imperial Esso hockey broadcasts on radio as well.
It was a golden age of radio! Our side had Kieth, Mcgarvey, Joe Morgan, Taylor Parnaby, Charles Templeton and Pierre Burton with Dini Petty in her pink chopper. The RB side had Crouter, Dennett, Gordon Sinclair ,Bill Stephenson and Henry Shannon in the Twin Comanche.  I of course eventually joined Crouter's team in the 80′s for 18 yrs. before this 13 yr. run at 680news.
Pete McGarvey contributed in more ways that on the radio though. As a native of Orillia which is where he retired, he co-founded in 1961 the now world famous Mariposa folk festival launching the careers of folks like Gordon Lightfoot. Pete led the restoration of humourist Stephen Leacock's summer home which became the Leacock museum that is still treasured by tourists today. The museum's lifelong learning centre was named after McGarvey in 2002.
I learned a lot from Pete McGarvey, and am STILL doing morning radio! #680news
---
If you are more fascinated by, rather than sick and tired of hearing or reading about Toronto Mayor Rob Ford, then you will want to read the book "Crazy Town" The Rob Ford Story by Toronto Star reporter Robyn Doolittle. The book  was published in Canada and the U.S this week by Penguin Books
You can listen to me and Robyn discuss the book and Ford's life here
I couldn't put it down from the moment it arrived on my desk but that's just me cause as a broadcast news guy, I follow the actions and in-actions of political characters for a living. In my view there is no political character in this Country more compelling (for better or for worse) than Rob Ford.  Sure, Pierre Trudeau fuddle duddled and dared to "just watch him" in addition to dating the likes of Barbara Streisand. Margret Trudeau melted down as a result of mental illness by partying with the Rolling Stones. That was pretty compelling for its time. Mel Lastman got a lot of people smacking their gums when he got called out by a Paternity suit.  He also made a bit of a fool of himself on CNN while responding to the SARS crisis – not to mention a welcoming hand shake to a Hell's Angel while his police chief was warning the gang to stay out of Dodge.  But for my money, the ongoing Ford Saga is way more compelling.  I'm often asked casually by friends, neighbors and most recently by many foreign journalists from International news agencies (who call me at 680 news for background interviews)  if I've ever covered anything as bizarre as the Ford Saga, and my answer is always " No, there has never been anything as bizarre as the Ford Saga ",  It keeps writing the next chapter with no end in sight.
 So, from a News guy's perspective ( who has no political agenda ) or the intellectual capacity to write a high-browed literary critique,  I think Doolittle has done a good job of partially contexting Ford's life from birth to Brazen 2  (the police operation that still underway.)  It's not a Pulitzer-like-Prize winning piece of political prose or analysis,  but rather a comprehensive reporter's notebook that she weaves into a titillating, page turning story that reads  more like a novel than the static series of Newspaper stories.  Of course it doesn't hurt the narrative at all that she plays a real life starring role as the Female Jimmy Olsen who finds herself in the front seat of a drug dealers car as one of only three journalists who have actually seen the Mayor of Toronto allegedly smoking Crack Cocaine.
The book is a runaway best seller here in Canada right of the gate and I suspect it will fly off the shelves in U.S as well -not because Americans give a damn about Canadian Politics but because late night guys like Jon Stewart have convinced them that T.O is a crazy town with a Crazy Mayor.  Here's Doolittle's appearance on the DAILY SHOW LAST NIGHT
---
Just got off the phone with Mississauga Mayor Hazel McCallion who is always up really early and always takes my calls as early as 6 a.m. Today, I wanted to talk to her about the meeting she called with all of the GTA mayors and regional representatives to figure out a coordinated strategy that can be used to request disaster relief for damage caused by the Dec. 21, 2013, ice storm.
At 94 years old, McCallion doesn't pull any punches. She told me the current disaster relief program set up by the province doesn't work. She tried to access the fund to cover damage from the flash flooding in July and was denied. McCallion wants the group to be able to question the municipal affairs minister today about how the disaster relief program works and what it needs from them to get at the money.
Listen to the full interview below:
As for the squabble between the Ford brothers and Deputy Mayor Norm Kelly — over which one of them should be attending to represent the city — McCallion told me the invite was sent to Mayor Rob Ford because he is the "elected" mayor of Toronto, but that Norm Kelly is welcome to attend.
Also, Kelly is not quite accurate when he says he was invited by McCallion. She clarified to me that he phoned her to ask if he could attend after learning the invite went to Rob.
She doesn't think they will decide how much money to ask for at today's meeting, but does hope to get agreement on a formula.
Have a good weekend.
---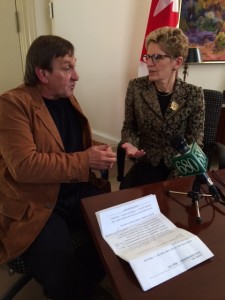 Yes, I really have one of the best jobs in the world. This isn't a sudden realization, just a reminder as I reflect and post about the busy pre-xmas schedule of receptions and year end conversations I've been having. The job over decades,  has put me face to face with tens of thousands of people from daily newsmakers to Political Leaders. It's a unique privilege to just sit,  chat and listen to the experience of others. Maybe I'll write a book about it some day.
Yesterday,   I sat down Premier Kathleen Wynne yesterday in her office to hear her reflect on the 1st year of the Job.  I didn't plan to conduct a " Gotcha " News making interview, to criticize her politics or to probe into her Gay bedroom. But rather, to have a casual chat or "conversation" (as she would say )- about what it's like to have the Top political job in the Province –  the good the bad and the ugly. I've spoken to her on the air many times by phone on an issue by issue basis when she was a cabinet minister but this was the first casual chat we've had since she became Premier. As I say, I didn't set out to make news ( although she did )  by asserting her plan to reform pension rates  in Ontario if the feds reject a national re-vamp.
Politics aside, I found her to be open and sincere, cautious but confident, compassionate but full of conviction.
If you have the time and interest, click here to eavesdrop on some of my recent world.
---
I spent a pleasant few hours over at Lt.-Gov. David Onley's suite this week to chat with him about the year past and a look ahead to 2014. His Honour's term representing the Queen in Ontario has been extended indefinitely by the prime minister given the minority status of the legislature. He wouldn't say when he thought the next election will be held — in fact, he can't by definition of his role.
Year in Review 2013: John Stall's interview with Ont. Lt.-Gov. David Onley
I always enjoy visiting David and his wife, Ruth Ann, at this time of year in the vice-regal suite for a couple of reasons. Firstly, because the place is so beautifully decorated for the holiday season that it gets me in the mood way more so than cold temperatures or snow. Secondly, because His Honour and I go back a long way — to the early-80s when I hired him to be my producer/researcher for the radio interview show I was hosting at the time on Newstalk 1010. In fact, I got a call this week from a young broadcast journalism student who is working on a story about the challenges of people with physical disabilities being hired by the media. "I just left the lieutenant-governor" he said when I answered the phone. "He told me you would be the best person to speak with because working with you was the first job he was able to land in media."
At that time Onley and I spent hours together in a tiny little closet of an office brainstorming topics, lining up interview guests and production values for the daily evening show called An Hour with John Stall. As I told the young student, "I didn't even see David's disability when he expressed interest in the job." It was the depth and breadth of his knowledge, curiosity and enthusiasm that made the choice a no-brainer. We spent every day together in that tiny little office for about a year sharing our professional and personal lives. The only time I remember David becoming distracted was when I learned he had fallen in love with a gorgeous country/Christian music singer by the name of Ruth Ann Wallace. I remember how smitten he was and understood why when she first paid a visit to our little cubbyhole of an office.
David left me for Ruth Ann, who he married, and for television where he toiled at CP24 and City before receiving a call from the prime minister of Canada inviting him to become Ontario's 28th lieutenant-governor.
Great fun to look back again this week.
---
I really enjoyed Meeting and spending a delicious half hour or so with Canadian astronaut Chris Hadfield this week.  He's touring the Country promoting his book " An Astronaut's Guide to Life on Earth in time for the Christmas season. It traces the path he took to realize his  childhood dream to become an Astronaut and includes some great anecdotes and descriptions of what its like to lift off and return to earth.  You can watch and hear the full interview here  but I've added a clip below that I recorded with him  as a side bar to the main event because we ran out of time and his entourage had him on a very tight schedule.
What I really wanted to know, but was not sure he would answer is the extent to which, if at all, they trained as a crew or had an officially sanctioned protocol for the eventuality of coming in contact with any other form of alien space craft while they were orbiting the earth for 6 months at a time.  In my view, it's not as stupid a question as some may think. Neil Armstrong and Mike Collins brought a flag and plaque with them to the moon that identified who they were and why they were there etc. so I wondered if he and his crew had trained or adopted a protocol for in the event of an encounter. For the record, here is his answer
The timing couldn't better for Chris and his publishers with the 6 month mission on board the ISS still so fresh in our minds. He brought the experience of space to the population of earth in a way no other has been able to do through the use of Twitter, which he tells me the Canadian Space Agency endorsed and encouraged.  Millions of students around the world were exposed to him in their classrooms and I fully recommend his book as a follow up primer for the kind of life they aspire to lead.
His main message for young people is to figure out and to follow an incremental path that best positions towards the ultimate goal while making sure they do " Sweat the small stuff" without making themselves crazy.
---
---